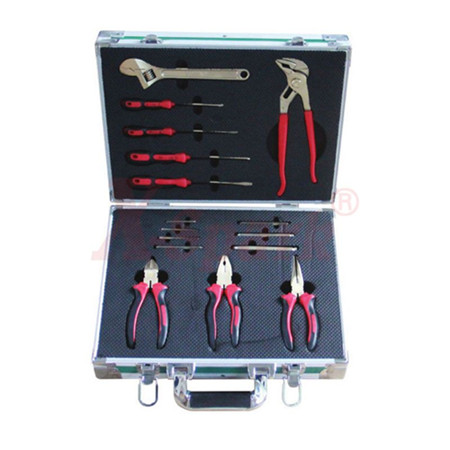 The non-sparking hand tools hold great importance in industries like petrochemical plants, offshore, refineries, mining, shipbuilding, and others as they provided them a method to carry their daily operations with ease. They are an ideal alternative to traditional hand tools that generate sparks, which can cause a fire hazard in an environment containing flammable contaminants.
The importance of non-sparking hand tools for certain industries?
If you are looking forward to ensuring workplace safety, investing in the non-sparking hand tools can be the best course of action. The tools are made of non-ferrous metals, such as bronze, brass, copper-beryllium alloy, and copper-aluminum alloy that do not ignite spark when in use. You can find these tools in a range of options so that you can go for the ones that meet your industrial requirements.
The nonsparking tools have gained immense popularity in the industrial sector for their non-sparking properties. They are even referred to as a panacea for all tool jobs that need to be performed in confined spaces and environments with flammable dust, gases, vapors, and fluids. The tools ensure 100% sparkless operations and help different industries to facilitate safety in the working environment.
By using non-sparking insulated tools in any of the APEX areas, you can prevent sparks that generate when two metals come in contact. The tools also go by the name safety tools and serve their purpose in environments containing flammable contaminants, such as dust, gas, vapors, and fluids. The spark-resistant tools have replaced traditional hand tools that cause friction and, in turn, create sparks that result in fire and explosion. While working in confined areas and ATEX zones, even a single spark can cause an explosion of a disastrous magnitude.
Different industries use different hand tools to carry day-to-day applications. Here we are listing a few industries in which using hand tools is crucial:
Auto Mechanical Maintenance: In this industry, it is not necessary for workers to use spark-resistant tools. But if the car has a full gas tank, caution might be the best practice. The chances of a spark igniting the gas tank of an automobile are a little less but still not worth taking a risk.
Oil Rig Maintenance
Oil rigs are one of the most vulnerable APEX zones owing to which non-sparking tools are a crucial part of the safety protocol there. The tools will prevent the occurrence of sparks and are more likely to prevent a number of potential explosions. The same goes for other natural gas mining industries.
Ammunition Plants
Ammunition plants are not less than bombs ready to explode. In these plants, weapons are manufactured that are quite flammable. The risk of fire and explosion is the highest in these industries, and the same is the need for non-sparking insulated tools.
Hospital Equipment Repair
The tools serve their purpose in explosive environments and are a great option to repair and maintain health equipment. Machines like MRIs are backed with a big magnet to scan the brain; the same can be maintained with the respective tools (containing no iron) without impacting the equipment's magnetic properties.
Chemical Handling Equipment
You can easily find equipment like conveyor belts, pickers, forklifts, and carts in the chemical industry, and the same demands timely maintenance and repair. Additionally, flammable substances can also be found in the chemical industry that can easily catch fire with even one or two sparks. That's why it is crucial to use non-sparking tools in such industrial environments.
In the industries mentioned above, safety is a major concern. Working with flammable materials or powerful magnetic equipment can be highly risky if you do not use the right tools. That makes the non-sparking hand tools a non-negligible part of any balanced toolkit.
The largest manufacturer of non-sparking tools in the world
Hebei Botou Safety Tools Group has 5 tools series: Beryllium Copper and Aluminum bronze nonsparking tools, Titanium tools, Special steel tools, Insulated tools, and Stainless steel tools.
Hebei Botou Safety Tools Group is a China tool Top Ten enterprise and China Famous export brand enterprise, owning the Chinese famous trademark "Qiaofang" and 2 well-known brands "Zhongbo" and "X-Spark" export brand. We have the British Royal UKAS certification, Germany TUV, and GS certification, U.S FM certification. Meanwhile, we have successfully registered in more than 30 countries such as European Union, Japan, Singapore, Russia, India, Taiwan, etc.
If you are interested in our products, please feel free to contact us!